By Art Madlaing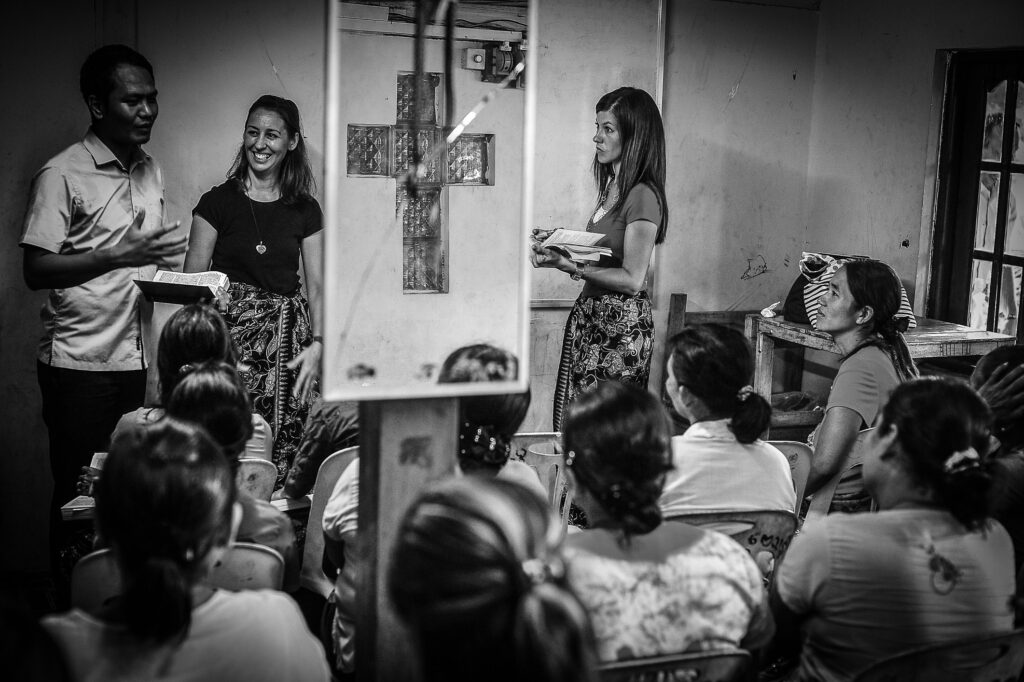 Scripture Reading: Matthew 28:18-20 Mark 16:15-16
GREETINGS: HAPPY SUNDAY! I would like to thank Bro. James Quitoriano for scheduling me to share a message on Grow by Sharing the Gospel to celebrate my 73rd Birthday today and for preparing the PowerPoint Presentation. Due to the COVID-19 pandemic lockdown, we can't meet at the church building but have this Virtual Worship Services. The COVID-19 lockdown is a blessing in disguise for me because I was able to invite brethren and friends from the Philippines, Canada, Hongkong, and from several states like California, Arizona, Louisiana, New Mexico, and other states to join us today for like a global Virtual Worship Services.
INTRODUCTION: Last month, I received sketches of the WE CARE Gospel presentation of Mark John Distor, a young Evangelist with WE CARE Ministries Philippines who my wife and I are partly supporting financially every month. He is now working in the Lord's vineyard in the province of Isabela, Cagayan Valley and vicinities in the Philippines.
In the first sketch, he showed the word BIBLE in bold letters, as acronym of Basic Information Before Leaving Earth." YES, the Gospel, in its purity and simplicity, is the basic information every alien sinner must know, understand and obey before leaving this earth. It is, therefore, imperative that every Christian and every congregation must fulfill the Great Commission by sharing the gospel in its purity and simplicity. Preachers from various denominations are adding and subtracting from the Word of God and are preaching different gospel. (to save time please read our Scripture Reading verses in Matthew 28:18-20 and Mark 16:15-16 and Revelation 22:18-19, Galatians 1:6-8)
WHY SHARE THE GOSPEL?
Millions are dying, especially during this COVID-19 pandemic without knowing, understanding and obeying the gospel. Bro. Marcus Dancer explained in his message last Sunday that we must prepare, learn and have the skill and take or use every opportunity to share the gospel to every alien sinner because it is the power of God to salvation (read Romans 1:16). THE REAL TRAGEDY IS NOT THAT WE DIE WITH COVID-19; THE REAL TRAGEDY IS IF WE DIE WITHOUT JESUS BECAUSE WE DIDN'T KNOW, UNDERSTAND AND OBEY THE GOSPEL. (read Matthew 10:28, Revised Standard; and Ecclesiastes 12:13-14, King James)
HISTORICAL FACTS OF THE GOSPEL
The Gospel is simply the historical facts on the Death, Burial and Resurrection of Jesus (please read 1 Corinthians 15:1-4) which can never be denied by agnostics, atheists or unbelievers. The apostles and early disciples were eyewitnesses to these historical facts.
WHY OBEY THE GOSPEL?
Apostle Paul gave warning on why every alien sinner must obey the gospel in 2 Thessalonians 1:7-9 as follows: "To give you who are troubled rest with us when the Lord Jesus is revealed from heaven with his mighty angels, in flaming fire taking vengeance on those who do not know God and those who do not obey the gospel of our Lord Jesus Christ. These shall be punished with eternal destruction from the presence of the Lord and from the glory of His power."
HOW TO OBEY THE GOSPEL
On the Day of Pentecost, Peter first shared the gospel to a big crowd in Jerusalem. Many were touched and cut to the heart and asked, "Men and brethren, what shall we do?" Then Peter said to them, "Repent, and let every one of you be baptized in the name of Jesus Christ for the remission of sins; and you will receive the gift of the Holy Spirit." (Acts 2:37-38, NKJV) Paul also mentioned in Romans 6:3-4 how to obey the gospel: "Do you not know that as many of us as were baptized into Christ Jesus were baptized into His death? Therefore, we were buried with Him through baptism into His death, that just as Christ was raised from the dead by the glory of the Father, even so, we also should walk in the newness of life." (read also Acts 22:16, NKJV)